I'm only going to say it one more time
(such a lie!)
:
I LOVE LEMONS
.
And this tangy, creamy, zesty-sweet tart epitomizes them! Puckery lemon curd and a slightly lemony, just-a-tad-sweet whipped cream/crème fraîche blend are swirled together for the filling - see the marbleization in the picture? It looks like sweet little fluffy clouds in a sunrise and tastes like that, but better. And with lemons.
I chose a sweet, chewy-crunchy brown sugar butter crust with a little chopped crystalized ginger and just a pinch of cardamom; the ginger and cardamom were fragrant while baking but barely discernable to the palate, adding just the tiniest hint of complexity to the lemony bliss.
By the way, this lemon curd recipe is my standard, and it comes out perfectly every time. Lemon curd is great as a spread for scones, pie fillings, or by itself with a spoon while you hide behind the refrigerator door.
I served wedges of my Sunrise Lemon Cream Tart with a drizzle of leftover rhubarb compote - its puckery sweetness was well matched to the lemon, but the flavors were different enough to compliment each other nicely...and the sunrise colors were beautiful!
I'm telling you, this tart rivals even my adoration of
Key Lime Pie
. And that's saying a lot.
Sunrise Lemon Cream Tart with Rhubarb Compote



INGREDIENTS

Lemon curd filling:

4 large egg yolks
3 large eggs
1/2 cup fresh lemon juice
1/2 cup (1 stick) unsalted butter, diced
1/2 cup sugar


Cardamom-Ginger Brown Sugar Crust:
1 1/4 cups all-purpose flour
1/2 cup (1 stick) unsalted butter, softened
1/2 cup firmly packed light brown sugar
2 tablespoons chopped crystallized ginger
1/8 teaspoon ground cardamom
Lemon crème fraîche:

3/4 cup chilled heavy whipping cream
3/4 cup crème fraîche
3 tablespoons sugar
1 tablespoon finely grated lemon peel


Rhubarb compote (optional):

4 cups 1/2-inch pieces fresh rhubarb (from about 1 1/2 pounds)
1 1/2 cups sugar
2 tablespoons fresh lemon juice
Zest of 1 lemon

DIRECTIONS


For rhubarb compote:

Combine all ingredients in heavy large saucepan. Stir over medium heat until sugar dissolves. Reduce heat to medium-low, cover, and simmer until rhubarb is tender, stirring occasionally, about 7 minutes. Transfer rhubarb mixture to bowl. Cover and chill until cold, about 2 hours.

For lemon curd:

Whisk yolks
and eggs together in small bowl. Combine lemon juice, butter, and 1/2 cup sugar in top of double-boiler. Set pan over simmering water (medium-low heat); whisk until butter melts and sugar dissolves. Gradually whisk 1/3 of hot butter mixture into eggs, then whisk mixture back into bowl with remaining butter mixture set over simmering water. Whisk constantly until custard thickens enough to hold marks of whisk, about 5 minutes (do not boil). Pour lemon curd through strainer set over medium bowl. Place plastic wrap directly on surface of lemon curd; chill overnight. (Can be made 2 days ahead. Keep refrigerated.)

For Cardamom-Ginger Brown Sugar Crust:

Position rack in center of oven and preheat to 350. Grease the bottom and sides of your tart pan (I don't have one of those, as you can see). In a small bowl, stir together the flour and salt; set aside. In a separate bowl, beat butter and brown sugar together until combined, about 1 minute; at low speed, add the flour mixture and mix just until crumbly. Pat the dough evenly into the bottom and sides of pan; prick well with fork. Bake crust for 15-20 minutes, until golden brown around the edges. Cool completely on a wire rack.


For lemon crème fraîche:

Using electric mixer, beat whipping cream, crème fraîche, 3 tablespoons sugar, and lemon peel in large bowl until stiff peaks form.

Spoon half of lemon curd and half of lemon crème fraîche into another large bowl. Using small rubber spatula, gently fold curd and lemon crème fraîche together, creating marble effect and being careful not to overmix to retain marbling. Spoon marbled mixture in dollops into cooled crust. Using tip of knife or small rubber spatula, swirl and pull mixture upwards in peaks. Repeat with remaining curd and crème fraîche mixture. Refrigerate tart at least 1 hour and up to 4 hours. Remove pan sides. Place tart on platter. Serve with rhubarb compote.

Makes 8 servings; can be chilled up to one week.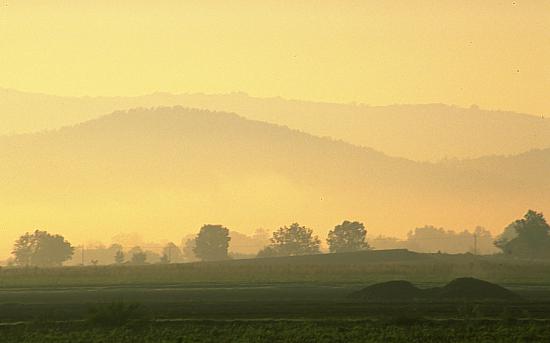 (This recipe was adapted from Bon Appetit, courtesy of Epicurious.com; the crust recipe comes straight to you from Tish Boyle's most excellent cookie book The Good Cookie, recommended to me by the illustrious Ivonne over at Creampuffs in Venice. For more Tish Boyle cookies, look on Ivonne's blog here and here.)