I miss Ireland
.

It must be something about my Scotts-Irish genealogy that that made me feel so strangely familiar in that place. I never thought I could feel at ease in a treeless landscape, but those undulating green hills – and, strangely, even more so the limestone crags of Aran – gave me a profound sense of home, a deep singing in my bones for heartland.
On sleeting New York days in February, when the morning's snow melts into gray lumps and children are walking home looking sullen, when the building creaks strangely and black-eyed shadows shiver and scratch in the walls, days like today, my body aches for that green, wide-open place and for the smell of the sea.

So I make tea. I put milk in it. I fill the house with baking smells.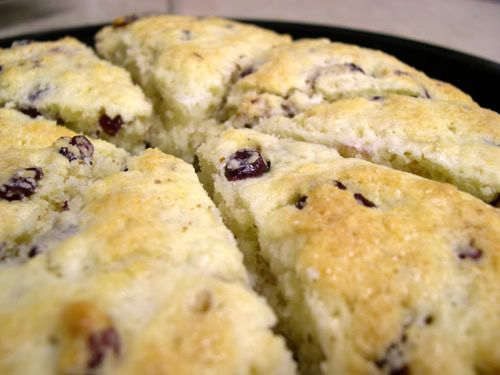 This tender, not-too-sweet tea cake, with its crumbly biscuit texture and juicy currant speckles, is a slice homesick-for-Ireland sympathy. The sweet glaze, infused with Irish whisky, tastes like the melancholy moan of Uilleann pipes rounding out a late-night pub seisiún. Best paired with tea, a journal and good pen.
Irish Currant Scone Cake
Adapted from Nick Malgieri's cookbook, Perfect Cakes, 2002
INGREDIENTS
2 ¼ cups all-purpose flour, plus 1 tablespoon
1 teaspoon baking powder
½ teaspoon baking soda
½ teaspoon salt
8 tablespoons (1 stick) unsalted butter, softened but still cool
3/4 cup granulated sugar
1 large egg, at room temperature
¾ cup buttermilk
¾ cup dried currants
1 tablespoon Irish whiskey, such as Jameson
Hot water
1 cup confectioner's sugar
2 tablespoons heavy cream
2 teaspoons Irish whiskey
One 2-inch-deep 8-inch round cake pan, buttered and bottom lined with parchment or wax paper
DIRECTIONS
1. Set a rack in the middle of the oven and preheat to 350°. Butter an 8-inch round cake pan, and line the bottom with parchment or wax paper.
2. Measure currants into a small bowl. Add 1 tablespoon whiskey and just enough hot water to cover the currants, and allow to soak while combining other ingredients.
3. Stir together the 2 1/4 cups flour, the baking powder, baking soda, and salt in a bowl.
4. In a larger bowl, beat the butter until creamy; add sugar and beat on medium speed until light and fluffy, about 2 minutes. Add the egg, beating until smooth.
5. Decrease the mixer speed to low and beat in half the flour mixture. Scrape down the sides of the bowl; beat in the buttermilk, then the remaining flour mixture.
6. Give the batter a final mix with the rubber spatula, making sure everything is well incorporated.
7. Strain excess liquid out of the currants and toss them with 1 tablespoon flour. Fold them into the batter. Scrape the batter into the prepared pan; dough should be firm, like biscuit batter. Press down into sides of pan and smooth the top.
8. Bake for about 35-45 minutes, or until the cake is well risen and deep gold and a broomstraw inserted in the center emerges clean.
9. While the cake is baking, whisk together the confectioner's sugar, cream, and remaining whiskey, stirring until smooth.
9. Cool in the pan on a rack for about 10 minutes, then invert the cake onto a plate (I just use my hand, but be very careful not to burn yourself!) and remove the pan and paper. Flip the cake over so it's right-side up. Spoon the glaze onto the center of the cake and spread evenly over the top, allowing it to drip down the sides. Serve warm or cold, but always with tea.