I always think it's a sign when you run across a tantalizing recipe and also happen to have all the ingredients. For all you grown-ups with well-stocked kitchens out there, well, this probably happens to you all the time (my mom's response to my
crab cake post
: "You won't believe this but I just bought a pound of Premium Hand Picked Lump Crabmeat and I have on hand all other ingredients" – what??) …but if you're a college student—even a gastronomic one like me—having fresh sage and white beans around at the same time its pretty much a miracle. I mean, in addition to being somewhat frugal/not wasteful when grocery shopping, I have minimal cabinet space, a fourth-floor walk-up, and a half-size fridge.
But the serendipitous event occurred today, when I was thumbing through Jeremy's donation to my cookbook collection,
Everything Tastes Better with Bacon
by Sara Perry, and stumbled across a recipe for "Sizzling Herb Pasta with White Beans and Crisp Smoked Bacon." I almost skipped on ahead because the ingredient list looked long and my fridge looked bare, but there was a very appetizing picture that reminded me of one of the best Italian dishes I've ever had—a short-cut pasta with pancetta and arugula at a restaurant called
Gnocco
, which is in the East Village on Tompkins Square North.
The Sizzling Herb Pasta is very herby and calls for large quantities of parsley, sage, and rosemary; parsley and rosemary I had in the fridge from a potluck about a week ago, and two nights ago I wrapped tilapia in sage leaves, then prosciutto, and then sautéed it in butter and olive oil. Garlic, lemons, and (of course) olive oil, I always keep on hand. I had leftover bacon from Jeremy's birthday (it's his favorite food)—or so I thought until halfway into the cooking process.
(Me) "Where's the bacon?"
(J) "Oh, I'm sorry, I finished it."
(Me) "What? When?"
(J) "When I made that bacon-and-cheese sandwich the other day."
(Me) "And you used all of it?"
(J) "…"
(Me) "You put three-quarters of a pound of bacon on a sandwich?"
(J) "…It wasn't that much. It was like, seven or eight strips."
(Me) "…"
(J) "…I'll go out and get you some bacon."
More serendipity occurred, because we had forgotten it was
market day in Tompkins Square
, and there's a stand there that sells amazing organic, free-range, thick-cut bacon from upstate New York. So J returned with good tidings of great bacon, and everything was all right.
SIZZLING HERB PASTA WITH WHITE BEANS AND CRISP SMOKED BACON
INGREDIENTS
Zest of 1 large lemon
1 large garlic clove, minced (I used more than this because we love garlic!)
1 tablespoon fresh lemon juice
1 tablespoon olive oil
1 can (15 oz) white beans, drained and rinsed (I used about 2/3 this much because J was dubious about the inclusion of white beans in pasta, but they were delicious)
6 (or more!) thick smoked bacon slices, cut crosswise into 1- to 2-inch pieces
12 to 14 oz dried fusilli
(I thought this dish ought to have its pasta
al dente
, so I didn't think this would be good with regular fusilli,
and I didn't have any of the good kind of fusilli,
so I used little short-cut ziti.)
1 ½ cups coarsely chopped flat-leaf parsley (I used about ¾ cup, but should have used a little more)
1.4 cup coarsely chopped fresh sage
2 to 3 tablespoons coarsely chopped fresh rosemary
Coarse salt (always sea salt in my kitchen!) and freshly ground pepper
Grated Romano for seasoning (I even had the Romano on hand!)
DIRECTIONS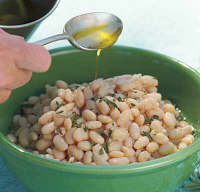 In a small bowl, whisk together the lemon zest, garlic, lemon juice, and olive oil. Stir in beans and set aside.
In a medium heavy skillet, cook the bacon pieces over medium-low heat. Using a slotted spoon, transfer to a paper towel to drain. Pour off bacon drippings, reserving ¼ cup in the skillet.
Meanwhile, prepare the pasta according to package directions (be careful not to overcook—leave the pasta al dente).
Drain pasta and lightly toss with beans and their marinade in serving bowl.
In the skillet, heat the bacon drippings over medium-high heat. Add the parsley, sage, and rosemary to the hot drippings and sauté quickly, 10 to 15 seconds. Drizzle and scrape the bacon drippings and herbs onto pasta mixture and toss gently to blend. Season with salt and pepper to taste; serve immediately.
The combination of lemony garlic and intensely herby bacon was surprisingly vivid/excellent. There's a lot of flavor going on in this simple-looking little pasta, but it was invigorating and yummy (especially with the green market bacon!). The white beans absorbed the lemon marinade nicely and were a unique, zesty addition. Maybe more of a summertime pasta, but bacon in the winter is always a good thing!